Me and Mine - A Family Portrait January 14
Happy New Year Me and Miners!
Today marks a milestone.
A whole month of being out of our house without a new one to go to. We have settled in as much as I think we are going to, to our rented house, as we have run out of space to unpack any more boxes!
It's also been a whole month of refreshing Rightmove and Zoopla 10 times a day. Why can't there be one update a day?! It's driving us mad, houses popping up at all sorts of random times.
In a month we have viewed a total number of zero properties. I got excited about a couple, only to discover there was no garden at the back of one ever to extend, and the other backed onto a river. With all the terrible flooding in this part of the world, we won't be heading to a river side location any time soon.
But we have a lovely landlord willing to extend our rental period month by month, so instead of counting down, feeling under pressure to have found and offered on something by the end of next month, (to give us any hope of completing before the end of our tenancy) I've decided to try and go with the flow. Even if that is tricky, as we drive past our old house every day.
We've made a lovely home here. Yes the pink artex isn't one of the top interior design qualities I look for in a home, but we have lots of space and our furniture just somehow seems to fit all the funny nooks and crannies. We keep saying, if you got your hands on this and made a few changes, you could completely transform it.
I have uploaded a little video home tour. (it's quite long so feel free to fast forward. Plus what is it with your voice on video?!)
So this has been life lately.
No alcohol until Ollie had a second trip to A&E in almost as many days, then a bout of chicken pox which has covered his little body in ghastly red sores. It's been a couple of weeks of iPad entertainment, Rich and I juggling work and colds, with a couple of lovely parties, cups of tea with best friends and Skypes with my little niece. Rich and I have lost 23 lbs between us and I'm determined to lose another stone, to fit into a favourite dress for Yasmin's Christening at the end of April.
This is Ollie saying cheese - looking at me and not Sammy who was playing photographer!
I've been pouring over home magazines and saving scrap bits of paper for inspiration when our perfect house pops up on the market, whilst sat on the laptop with my best friend scrolling through endless house listings. The house is covered in half finished blog posts and the dog food bin has become a handy table in the back porch for taking food photos! It give me a really nice soft natural light :)
We have 2 sleepovers this week. One at my sister's, just for me and then we are hosting a little sleepover for Sammy's sweetheart, with a first trip to a bowling alley and a birthday lunch after.
I am working away next week, snapping a special project and have been invited to this gallery exhibition next Wednesday evening, with the photographer himself presenting his iconic pieces of work. I am giddy.
Today I am up in Bristol getting a little Valentine's love on with a photo shoot with The Little Wedding Helper. A few hours of playing with flowers and hearts, yes please!
And in amongst all this month's chaos and drama, this was the only photo of the four of us. From the first night we moved in. A perfect one to share for the new start of Me and Mine 2014.
I hoped the black and white might hide just how tired I look in this photo!
Isn't this just how the first night in a new home is meant to look? Beds on floors?!
February is jam packed for us, Rich's birthday, parties, days out, a family gathering, I'm hoping we will be spoilt for choice for our February photo.
Join in with us and capture a moment in your family lives, once a month.
I've shown you Me and Mine, now show me you and yours!
Head over to Katie's blog to catch up with her family adventures this month. Her blog is genuine, heartfelt and full of happiness. I love it.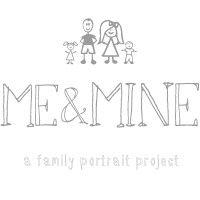 ps. I'd like to apologise for not commenting on all the lovely photos linked up last month. I felt I didn't have time to breathe last month, but that's all changed. I can't wait to read all your posts.