Me and Mine - A Family Portrait Project April
Last month we were waiting for a special delivery, from the stork.
There was only one photo that I could have linked up for Me and Mine this month. My special family with the most special girl.
Our new little niece, Yasmin lu, our new little cousin.
Richard asked me, when I finally came home after 3 days of soaking up some precious first cuddles, (I will be forever grateful to Rich for running around like a mad man, sorting the boys so I could support my sister) whether I felt like I'd had a niece or something more. I honestly feel that I have experienced the most magical thing. Seeing a person being born, sharing that incredible moment with 2 people I love so much, that yes, she does feel extra special.
She is the closest thing to me having a daughter of my own and I have put myself forward as chief party organiser and on the list of helpers for wedding dress shopping!
And this weekend my sister and brother in law, asked me and Rich and my brother and his wife, to be her godparents. What an honour.
I hope you have all had lovely family times this month. Join in with us for Me and Mine and show us you and yours!
And if you would like to see some more gorgeous boys head over to Lauren at Real Housewife of Suffolk.
Link up your photos with us. If you haven't taken one yet this month of all of you, here's your excuse!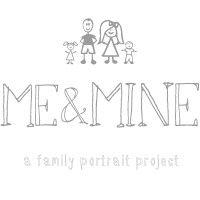 You can see how Me and Mine started here. We have a birthday for a big boy this month so I am sure our May photo will feature party hats and cake!