see it snap it love it - eyes
I bought this wicked Fujifilm Instant Camera when we went to Tokyo last year, as I had wanted one for ages but they seemed expensive over here once you add the price of the film!
It takes mini instant photos like a Polaroid, and the quality of the image is really good.
I took a few at bath time tonight and thought they would make a great entry for the Dear Beautiful Boy's See it Snap it Love it competition this week.
They may not be the best photos, but all I can see when I look at them is small boy's deep, big eyes. Big boy on the other hand wanted to wear his googles for the entire duration of the bath, so you will just have to take my word for it. There are great big brown, puppy dog eyes hiding underneath!
Join in the fun over at Dear Beautiful Boy!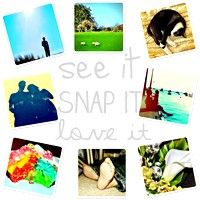 Ps if you fancy a Fujifilm yourself try Amazon