Ta da and my blog angel is....
Time for the big reveal! I have been taking part in Crafbotic's Blog Angel challenge throughout June. I was paired with a very lovely lady whose blog I have thoroughly enjoyed discovering.
Turns out whilst we don't have the "mummy" thing in common, well not yet anyhow, maybe one day, we have lots of other things that we both love and are inspired by.
I suspected, when I posted my last update, halfway through the challenge, that she may have sussed me. I was right. I was well and truly busted! Turns out being subtle obviously isn't my strong point, something I have actually known for years! All my little encouraging tweets and blog post comments did not go un detected! It hasn't mattered at all. In fact, I think it has made our bloggy friendship closer!
It is much easier when you can ask direct questions and give direct feedback. I hope that in the last 2 weeks I have been a better angel and encouraged her to try new things. We both share a love of all things vintage and I loved her post about her latest charity shop haul! Right up my street! I hope that she will link up this and future haul posts with a link I love #MagpieMonday on Me and My Shadow.
I have become obsessed with a link I found through her blog called Current Crush Thursdays and love a good nose through her Pinterest boards. I even wrote a guest post for her whilst she was on holiday!
We have discussed ways to style a post and the types of topics to feature. We have batted ideas back and forth and it has been incredibly rewarding to see a post on her blog that is a result of our discussions.
She has an engaging writing style and talks in a honest and genuine way, which is what I like the best.
It has been a complete pleasure getting to know her and even though we have never met in person or even spoken on the phone I feel like if I was passing her house, I could stop in for a cup if tea and we would put the world to rights!
So without further a do I present to you ...... the very lovely and talented Jenni at Bows, Bangles and Bakes!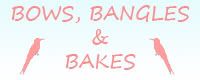 Now please go and have a peek at her blog! Follow it by email or RSS - it is a pleasure to read.