It's Crikey time again!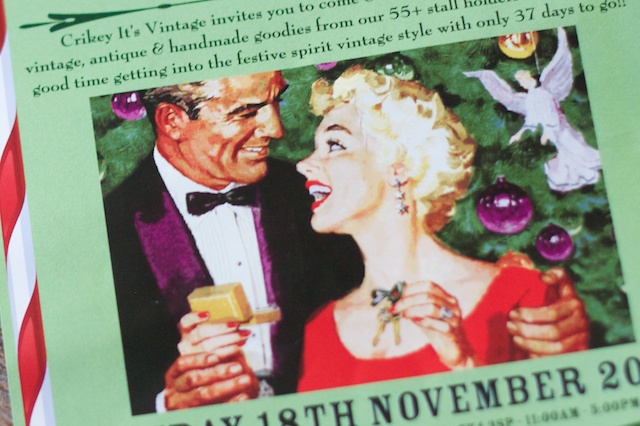 One of my favourite vintage fairs hosted a Christmas special at the Exeter Thistle Hotel. Crikey It's Vintage was home to over 55 stalls of handmade loveliness, vintage finds as well as clothes, home accessories and antiques.
Armed with a small boy in a buggy, which was both brave and stupid, I apologised my way round the stalls, trying not to bump into the trestle tables and wheel over people's toes.
I saw some super cute fabric crowns by Maid in Devon, which you could reuse every Christmas instead of the useless paper ones that rip apart as soon as you place them on your head! I fell in love with some animal heads made from cardboard by Rob Mason. Check out his website, if just for the graphics! I lusted after the seagull for big boy's nautical bedroom but decided to pin it for when he's a little older, although I am kicking myself now as they were half price especially for Crikey!
I spied some delicate fabric creations by Jeanie Deans and swiftly put a green and blue print caddy in the bottom of the buggy! £10 too and perfect for holding my SLR when I need it accessible. I swiped a beaten up vintage camera which I am going to use as a paperweight for £3 and it makes a great prop too.
Then I discovered Claire Close a talented local artist selling hand screen prints (check out the floral one I bought on sale for £5), cards and giant colour in posters for kids! I snapped up a couple of cards too.
I managed to find time to sneak some beautiful ceramic jewellery, hair slides and anchor earrings into my bag (all under £3) and a fab bow cushion from Kimbows which goes with my office decor perfectly.
After watching the boy have a jig in the pushchair to the Santa Babies girl group I had just enough time to Face time my husband at home to show him a painted window frame mirror which I have been on the look out for, for the lounge, for ages! I couldn't believe it when the seller was Karen from The White Approach! I follow Karen's blog on twitter and it was a pleasure to actually meet her!
Small boy was as good as gold and I scooted back up the motorway before I was missed for too long!
Roll on the next Crikey It's Vintage fair!